Xtreme Toyota Page 2

With the LC Engineering header in hand it's time to focus on the muffler. The Flowmaster is always a tried and true solution to an exhaust system. Their aluminized construction really lasts a long time and the exhaust note does not change at all because there isn't any packing inside to burn out. Believe it or not, the current Flowmaster has been on two previous vehicles prior to this one! On all three of these vehicles the Flowmaster has seen MANY off-road miles and has served its owners well for over five years!!
So why would we want to change such a perfect recipe? Simply for a change. Borla has been selling performance exhaust systems that have gained much respect in all ranges of automotive performance. It's time to give their new stainless steel, straight through muffler a shot! There is no doubt in my mind that the Borla and the Flowmaster mufflers will be the same in the horsepower they both yield. But in this case we are going after the better sounding setup. The Toyota 3RZ motor really likes to rev out and is more than up to the task of full throttle pulls for a sustained amount of time. In this case the future holds a few internal engine mods which will let the 4cyl 3RZ engine sing through its straight through headers and exhaust. Both units are stainless steel and are expected to stand up to the test of time better than the competition.
Here is a picture of the LC Engineering header's collector which gradually pulls the exhaust gasses into the catalytic converter. What a beautiful piece.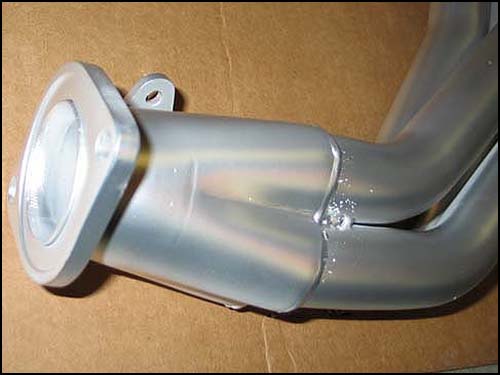 Time to go to work! Head to the next page...