Rear End Swap in Progress pg.2
Grinding off the old crusty paint and draining out the oil is the first step. Here with the gears exposed we can count the teeth, check for an posi or open diff etc etc.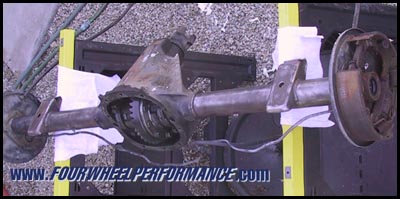 Now I just went ahead and knocked off the brake drums and lines to finish the stripping to get her ready for paint. At this point the axles are at a shop along with one of the 6 lug rims so that a new pair of axles can be made to the same specs but to mate with the new rim.
Paint of choice? I passed on the pink and went straight for the gloss black. The shiny chrome diff cover that came with it is definitely a show piece and will be distracting enough on its own. I saved that bad boy for the grand finale. Paint makes all the difference. How much paint did it take? I found an old can of gloss black that was used and beat every squirt out of it that it would produce.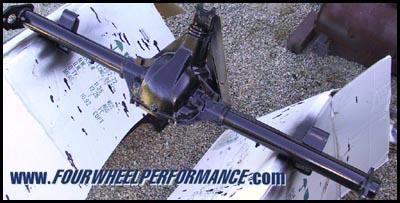 So that's where we stand so far. Now I'm just waiting on the axles and deciding on what kind of disc brakes I want to adapt to it. I'm thinking of some Wilwood calipers with some vented rotors. I just need to get some advise on the piston size.
*UPDATE NOW FOR SALE* We already changed out minds! We are going all with a Ford 9" rear end instead.
Chevy 10-Bolt Auburn differential and 4.10 gears
They are a direct fit for 7.5" & 7.625" differentials found in 89-2001 Chevy S-10s, Firebirds and Camaros with 28 spline axles and 10 bolt rear ends. Will also fit 1982-1988 but requires changing to 28 spline axles. Also will fit Malibu 's, Monte Carlos, Cutlass Supremes and Buick Regals but will have to change to 28 spline axles. This is an excellent upgrade for 82-97 Camaro Z28's, Trans Ams, and Formulas that come with the weak factory limited slip unit. Email << if interested.
Next: Page 3 »
Page:
1
2
3
Project Toy Index